Organised into credit units (UV), coupled with back-up classes, the DE dance course at the isdaT offers over 1 300 teaching hours over the two-year course.
first year
The first year focuses on enhancing students' personal culture and artistic practice.
It comprises 3 credit units:
UV1 History of dance and choreographic culture: more than 100 hrs. of classes, workshops, show analysis and repertoire training courses
UV2 Musical training: around 170 hrs. of classes, body percussion practice and interdisciplinary courses with musicians
UV3 Anatomy-Physiology: 80 hrs. dedicated to the knowledge of the workings of the human body
+ supplementary support classes for technical skills and introductory classes on teaching young children:
introduction to teaching early learning and beginners' dance training: around 40 hrs.
courses and workshops: around 80 hrs. of writing and personal improvisation workshops
technical classes: around 80 hrs.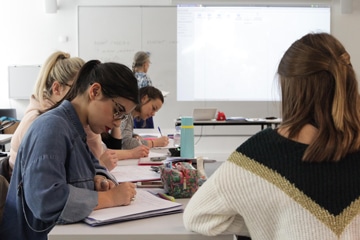 Cours de physiologie avec Hélène Lagouanelle, avril 2019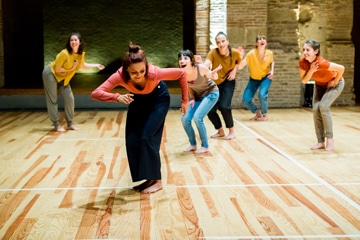 Spectacle Ou bien, Dansons maintenant ! © Franck Alix, mai 2019
second year
The second year focuses on teaching, with one credit unit.
UV4 Teaching, more than 580 hours, divided as follows:
teaching technical development: more than 260 hrs. taught by a certified trainer and a tutor for each student, including professional training sessions with students from music and dance schools in the region
early learning and introduction to dance: around 130 hrs. including weekly "field" training sessions with pupils from kindergartens and elementary schools, culminating in a choreographed performance on stage
functional analysis of the body in dance movement: 120 hrs.
teaching-related musical training: 70 hrs.
+ additional technical skills support classes:
courses and workshops: around 35 hrs.
technical classes: around 80 hrs.
introduction to systems of movement composition (Laban, Benech), to the symbolism of movement based on scores and excerpts of classical, contemporary and jazz choreographies
neuro-linguistic programming, stress management
regulation of the profession, professional integration
+ preparation for evaluations: exam simulations, identical to the final examinations.